Golden Cathedral GPX track and Google Earth KMZ files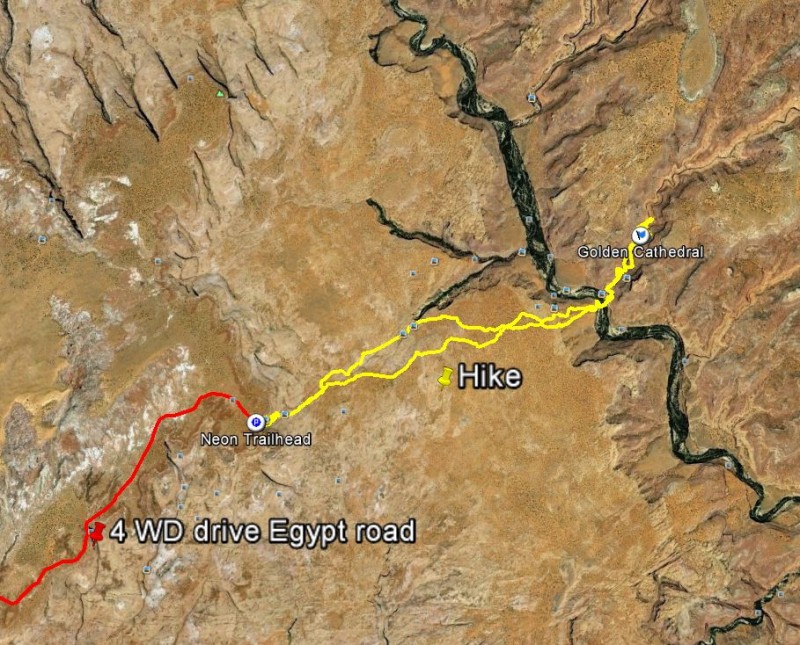 I was asked to publish the GPX file of my June 2012 Golden Cathedral hike. Thanks! A pretty oppurtinity for me to revive this hike on Google Earth. If you have Google Earth installed you can take the 3D birdview tour of this hike into the Escalante Neon Canyon by clicking onto the above Google Earth overview map. In red color the car drive from Escalante to the trailhead. Be careful the last miles on the Egypt road, where the road gets very bumpy and is full of rock slabs with risk to bottom up your car. No chance without high clearance 4 WD. If you follow the yellow colored hike on the birdview map you will see how lost I wander around finding the edge down to the Fence canyon and circling it on the east to follow the "Straight line" towards the neon Canyon entry. This hike has two main routes: The one recommended in the BLM paper guides is through "Fence Canyon" and requires to cross Escalante river 3 times. I chose the "Straight Line" climbing down the sand dune and crossing only once the Escalante river. Safe some energy for the return to climb back this sanddune in the heat of the afternoon. It was a nice experience. Nothing worse than hiking in sand, beside hiking in sand in ascent in the heat of the desert june sun. Ok I am not the GPX KMZ geek but I added also four of my fotos into the Google Earth KMZ file. You can view by clicking on its icons.  At the bottom of this post I will add also the link to download the GPX file of my hike, including the car drive with drive times embedded. Thus you can estimate how early you must start. The ideal route for the Hike choosing the "Straight Route" (not through fence canyon) would be in between the two yellow lines of my hike to and from the Neon Canyon.
Click on the foto to open the Google Erath KMZ file. You can either download or directly start Google Earth application.
For the GPX files use this link. Remember:  You are responsible for your safety. No gurantee on the files downloaded here. I used the Garmin GPSmap 62s.